If your Minecraft lover wants to express their love of the game off screen, you're in luck! There is plenty of fun Minecraft merchandise available for the gamer in your life. Lets look at 6 awesome Minecraft gifts!
Minecraft, which debuted back in 2009, is now considered one of the best-selling video games of all time. It boasts more than 140 million active users per month around the world. In this open world game, players navigate a seemingly endless 3D world. They work to discover materials, make tools, build structures and machines and more. Miencraft has five different player modes and unlimited hours of fun for gamers. Minecraft, often referred to as a sandbox game is worth approximately $1.7 billion dollars.
It's no surprise, then, that Minecraft merchandise has popped up everywhere. As a parent of a Minecraft gamer, I love seeing everything from t-shirts to themed Legos and toys to phone cases, Minecraft-branded items can be found just about anywhere. Kids can host birthday parties with a Minecraft theme and offer plates, napkins and goody bags with the Minecraft logo on it. Truth be told, the Minecraft logo can truly be found on most items out there!
If the Minecraft lover in your life is looking for swag to show off their love of the (video) game, you're in luck! There is literally so much Minecraft-themed merch on the market you may even find it challenging to narrow down the field. But here are our six top picks for cool swag for the Minecraft fan in your shopping list.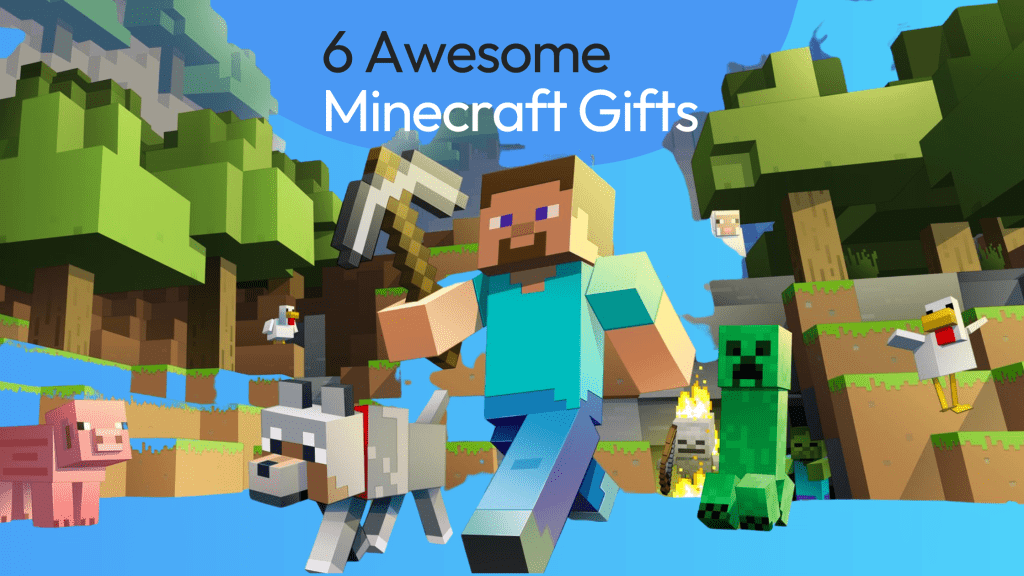 6 awesome Minecraft gifts
Minecraft Lego Sets – Bring the magic of Minecraft to life off the screen with themed Lego sets. Lego sets start at $29.99 and go up from there, and each set depicts a different scene from the game. Gamers who enjoy building a virtual house within the sandbox game should enjoy recreating a scene in real life, too!
Minecraft Sword or Pickaxe – No Minecraft-themed costume or game room is complete without a pixelated sword. These generally cost $20 or less and come in multiple colors to suit your fan's preference. Use the sword for cutting down cobwebs in real life the same way you would in the game!
Minecraft Insulated Water Bottle – It is important to stay hydrated no matter what activity you are engaged in. This stainless steel, insulated water bottle with a Minecraft motif will encourage your game to drink more water and allow them to showcase their love for the game at the same time.
Minecraft T-shirt – Fans of all ages will love this casual Minecraft shirt that shows off some of the favorite characters from the game. Whether your Minecraft fan wants to wear this t-shirt to school, to bed or to just hang out it, they will be excited to show off their love for Minecraft with this versatile tee.
Minecraft Clock – Ensure your gamer is never late to an appointment, dinner or other engagement with this unique Minecraft-themed clock. With an LED screen that clearly displays the time and date, this fun clock will perfectly compliment any gamer's themed bedroom or game room.
Minecraft Backpack – Your Minecraft fan can carry all of their important possessions, from folders and laptops to toiletries and a change of clothes in this stylish backpack. Girls and boys alike will adore this versatile necessity that can serve as a conversation starter while waiting for the bus.
What Minecraft swag have you found for your gamer that has been a big hit?