Technology is a huge part of the world we live in. Whether your child is 5 or 17, technology impacts their lives. Children learn through play involving technology at a very young age. That's why it's essential for parents to make informed choices when it comes to deciding what technology is right for their child. In this article we'll discuss key technology accessories to consider when choosing the right tech for kids – essentials that can help ensure your child's tech use is comfortable, age-appropriate and enhances learning.
Students of nearly all ages are using technology in the classroom to enhance their learning experience. By laying the groundwork appropriately, parents can ensure that their children have a positive experience with the technology they use from their first exposure.
What to consider when choosing tech accessories
As your child's body and motor skills develop, the right tools are essential to help children of all learning styles maintain posture, focus and control. In many cases, the use of technology is an incredible aid to give children who need it additional support. Did you know that an estimated 60% of children between 10-17 years old report discomfort during laptop use without companion tools? Using a mouse, a keyboard and/or a stylus are all good ways to help students work with technology in a way that works for them. Comfort and precision should remain top of mind when choosing tech for your young learner.
Another thing to consider is safety. While children are spending more time online for both academic and social activities, they are exposed to potential dangers that they are not always prepared to deal with. Equipping your child's computer with the right monitoring software will preempt any dangers going unnoticed. Using a software like ProtectMe allows you to monitor your child's in-game voice and text communication to alert you of any dangers while they play online video games.  
Let's look at the different types of tools that work with both computers and tablets to further their comfort and skills.
Using a mouse to support motor development
Many children now work and play on laptops, many of which use trackpads. Children who are still developing their fine motor skills can be slower on a computer and make more errors when using a trackpad. Children under the age of 10 typically have less fine motor control, while older children may also find the trackpads difficult to use. An easy solution is to add a mouse to your child's laptop. A mouse may enable easier navigation of the web, educational apps and more. Buying a mouse can be a very cost effective way to ensure your child can easily navigate through their homework and online activities.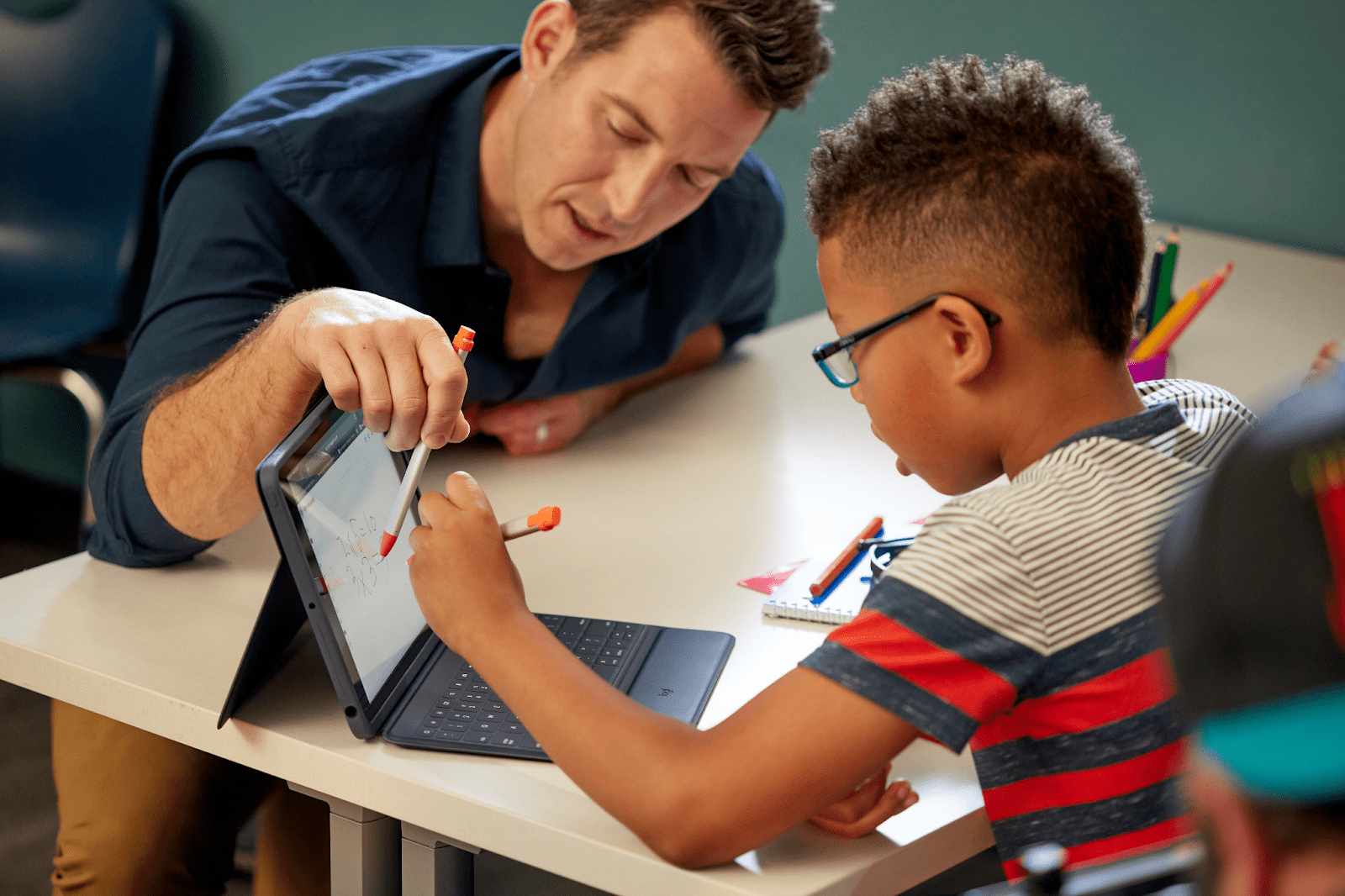 A stylus to support writing skills
With the use of technology, many parents worry that their children will never learn handwriting skills or that they may lose out on the information retained from physical notation when using computers. Research actually shows that when it comes to students retaining what they learn, the act of physically annotating during a lesson can make a significant difference. With the Logitech Crayon for iPad (rechargeable via lightning or USB-C), children can write, take notes, and draw as naturally as they would with pen and paper. This can help to unleash their creativity and expression of ideas, especially when their typing skills are not as fast as their thoughts.
Keyboards for comfort
We have all felt the discomfort of sitting hunched over a computer for too long. This is the last thing we want for our children. Understanding and setting our children up with the correct screen height and keyboard position will encourage optimum comfort and posture. This will help them avoid health impacts later in life but can be difficult to achieve with a built-in laptop keyboard. A full-size keyboard gives students a familiar platform plus more efficiency and control to build confidence and support engaged learning. When it comes to keyboards there are many options to choose from such as the Keyboard K120 or a wired keyboard for iPad.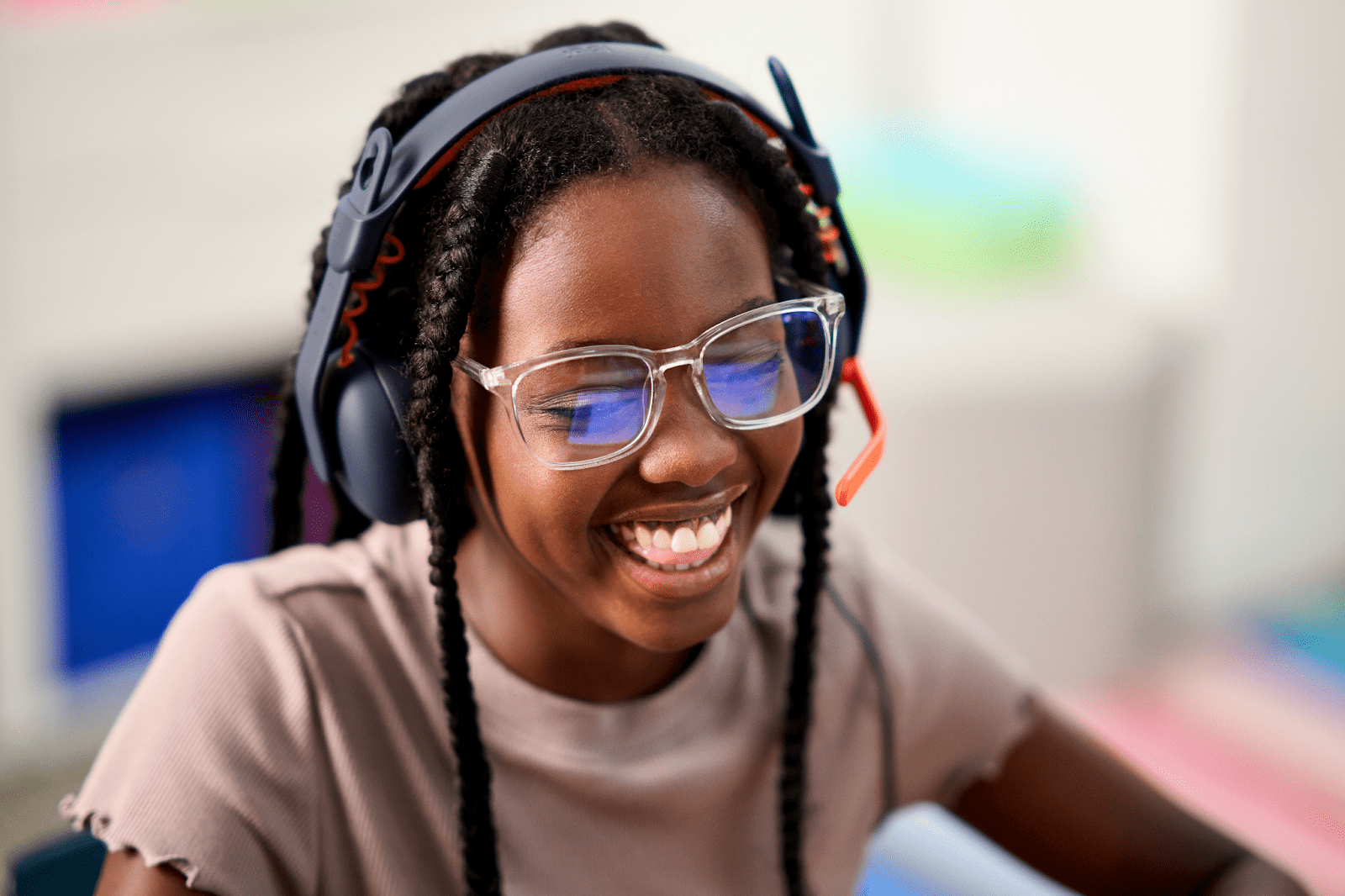 Headsets for perfect audio
Quality audio matters. Surrounding environments with background noise in classrooms or at home can cause kids to lose their focus, motivation and cognitive processing. It's also important for headsets to be age-appropriate and optimized for kids' comfort and sizing.
Students aged 6-12 require sound to be 300% louder than background noise, otherwise learning loss can occur.
These Zone Learn headsets from Logitech feature audio drivers tuned for vocal clarity, making them optimal for digital learning applications, so lessons come through super clear. The micro-adjustable fit also ensures they are ultra-comfortable for learners of all ages – whether that learning takes place at home or in school. Kids will benefit from the headset staying put, and not having to keep adjusting so they can focus on learning.
Esports: More than just fun
While you may think eSports are just for fun, they can be used to help students build confidence in the classroom and beyond.
97% of boys and 83% of girls identify as gamers.
eSports present the potential to expand critical thinking and social emotional learning due to the communication and collaboration required to play. If your child is engaged in eSports, you will want to consider different types of gaming accessories as well as a monitoring software to keep your gamer safe. From headsets to keyboards, their needs differ from educational accessories.
Every gamer requires a gaming headset. The G435 Ultra-Light Wireless Bluetooth Gaming Headset is a great lightweight option for long-lasting comfort while playing. Available in 3 different color variations, there is a color that fits every vibe!
When it comes to eSports, the way the mouse is used is different from your everyday mouse use mentioned above. For example, the G203 Lightsync RGB 6 button gaming mouse is way more functional than a regular mouse with 6 buttons and it will level up your child's gaming experience.
A high performance gaming keyboard is also a must. The G512 Carbon Keyboard is fully customizable with approximately 16.8M colors! The lighting in the keyboard is driven by games, audio or the screen to deliver the most immersive gaming experience. When it comes to eSports, these accessories will enhance their gaming experience. 
Screen Breaks for overall health
While technology is part of your child's daily life, it is important to encourage screen breaks. A simple way to start is by setting time limits on apps, games and phones. Your child will get a notification when their time is up and the app or game will be disabled for a set amount of time. To ensure that screen breaks aren't a struggle, come up with screen time rules with your child. These rules can include what time screen time begins during the day and what time it ends. You can include the amount of time spent on the computer at one time before taking a break as well as what to do during the break. Keep in mind, not all screen time is created equally. Time spent on the computer for homework isn't the same as time spent playing video games. When you make screen time rules together, you can discuss what feels reasonable for all involved which results in less pushback.
Final thoughts
When it comes to choosing the right tech for your kids, consider how the accessory you are buying will help to improve their comfort, focus and experience. There are many great products to choose from to meet the needs of your child. Consider how your child learns best, their learning environment and their age to help inform your choices in what items are needed when. For example, if your child learns best by being active, consider a stylus and tablet to encourage the learning process while on the move. To learn more about tech and your child's learning style, check out this helpful infographic! In the meantime, have fun and make tech comfortable!