If your kids love screen time, why not make it work to your advantage? Engage them with these educational PC games and learning will feel more like playing.
If your kids rush home from school and beg for screen time, that's okay. After seven or eight hours of learning, they probably just want to decompress the same way adults do- with mindless entertainment. Whether your child wants to battle in Fortnite, build a new house in Roblox or simply watch several episodes of Bunk'd, there is no harm in letting them unwind with mindless entertainment.
But what if your kids could learn as they play? There are a number of PC games available- some of them free!- that can enhance your child's education as your child is entertained. From math skills to language acquisition and keyboard instruction to grammar lessons, your child can engage with a number of PC games that will blend the world of learning and playing so well that they won't know what hit them! If you want your child to look forward to screen time and learn while they play, check out these educational PC games your kids will love.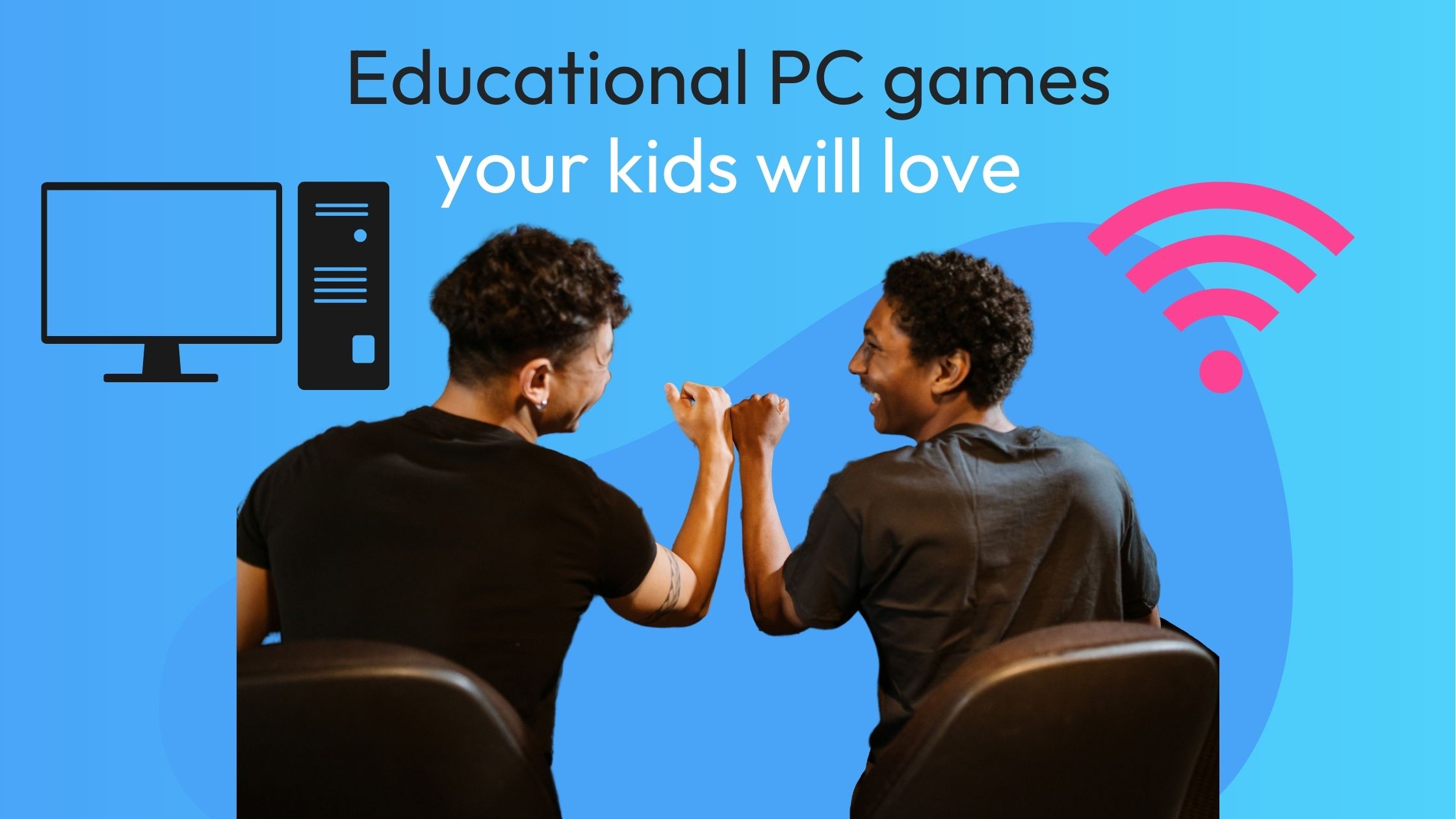 10 Educational PC Games
Prodigy Math– Your child will solve math problems that cater to their level and learning abilities. Perfect for kids in grades 1-8, Prodigy will help your child improve their math skills. There is a free version as well as a paid version, and purchasing a membership enables your child to unlock advanced features.
Typing.com – Learning to type properly on a keyboard can be challenging, but Typing.com makes it fun. Kids can start with progressive lessons and play games to enhance their learning. There is a free version kids can start using immediately and a paid version you can subscribe to if you want to enhance your child's experience.
Night Zookeeper – Help your child cultivate a love of writing with this fun program. Although it isn't free, it is only $5 per month if you pay for a year in advance, and you can try it free for seven days before you commit. With this PC program, kids will increase their vocabulary, develop their grammar skills and hopefully learn to love writing!
Adventure Academy – From the creators of ABC Mouse comes Adventure Academy, a fun learning adventure for elementary-aged kids. With more than 4,000 activities spanning 4 subjects (math, language arts, science and social studies), your kids will stay engaged and enjoy this challenging and rewarding game. It is $12.99 per month after your free 30-day trial.
CodeSpark Academy – If your child shows an interest in video games and wants to learn more about how they are created, CodeSpark is a great place to start. Kids will learn about coding while they play. Developed by research-backed curriculum from Princeton and MIT, CodeSpark doesn't have any words and is self-guided. Designed for kids 5-9, this game costs $9.99 per month after your 7-day free trial.
Little Pim – Perfect for young kids 0-6 who are just starting out on their educational journey, Little Pim offers basic, engaging instruction in 12 different languages. Your child will love the colorful pictures and proper pronunciation of words in various languages. You can sign up for a 7-day free trial. The regular cost is $9.99 per month.
The Magic School Bus Activity Lab- Your favorite childhood character, Ms. Frizzle, is ready to entertain your kid on their computer! Free, interactive games will entertain your child while they learn. From virtual science experiments to matching games, these fun, free activities, will have your child begging for screen time.
Reading Eggs – If your young learner needs help boosting their math skills, you may just find success with Reading Eggs. This interactive program boosts your child's literacy in an engaging, entertaining way. Catchy songs, bright colors and enticing rewards make this interactive program a favorite with young learners. This game is $9.99 per month after you 30-day free trial.
Education.com– Education.com – Education.com is your one-stop shop for educational games that are both free and fun. This expansive catalog of games covers a variety of age groups and topics, from coding to reading and math to language arts. You can filter by grade level so the content is appropriate for your learner.
Splash Learn – Designed for kids in pre-K through 5th grade, this program starts at $5 per month (although ask your child's teacher if their school already has an account) and interactive for students. Kids will work on math and English Language Arts skills in a way that doesn't feel like learning. Your child will get a boost in essential skills that can lead to more confidence in the classroom.
What is your child's favorite educational PC game?