Discord may feel overwhelming and scary, especially when you find out your teen is using it. Take a deep breath and read this post to learn how to block unwanted content on Discord.
Discord, like most social media and communication apps, can be scary. There are a lot of things you will want to shield your children from to the best of your ability. Without setting parental control settings on your child's Discord account, they are likely to find themselves in a situation that may be above their maturity level to handle. In just a few minutes, you can block unwanted messages and inappropriate content from your child's Discord account.
But wait, what is Discord?
First things first: Discord was created for teens 13 years of age and older to connect during live video game play. It is used to enhance their gaming experience when playing multiplayer games. Teens can access Discord through their phone, computer (downloaded version) or web browser. Kidas monitors communication through Discord when used on your child's PC while gaming. Through Discord, they can chat with friends and strangers by joining public servers, joining private servers that have been invited to or creating their own servers. They can connect via voice chat, text chat and/or video. Note: People with Discord accounts are called 'server members'.
How to Block Unwanted content on Discord
Any platform that has direct messaging is an opportunity for dirty hidden things to take place. This is where bullying happens privates, sexual content gets sent, scammy links or sexual photographs get shared. When it is in a direct message, no one else can see it which means there are no boundaries to what can be shared. TO ensure that your child doesn't receive unwanted and inappropriate messages from server members, you can change their setting in 'user settings'. In the user settings on Discord, you are able to decide who is able to send direct messages to your child.
In User Settings (you will find the settings toggle at the bottom of the screen on web version), head to the Privacy & Safety tab.
Ensure "Keep me safe" is selected. This will filter out inappropriate and explicit content in direct messages to keep your child safe.
Turn off 'Allow direct messages from server members'. When it is on, anyone on Discord can message your child.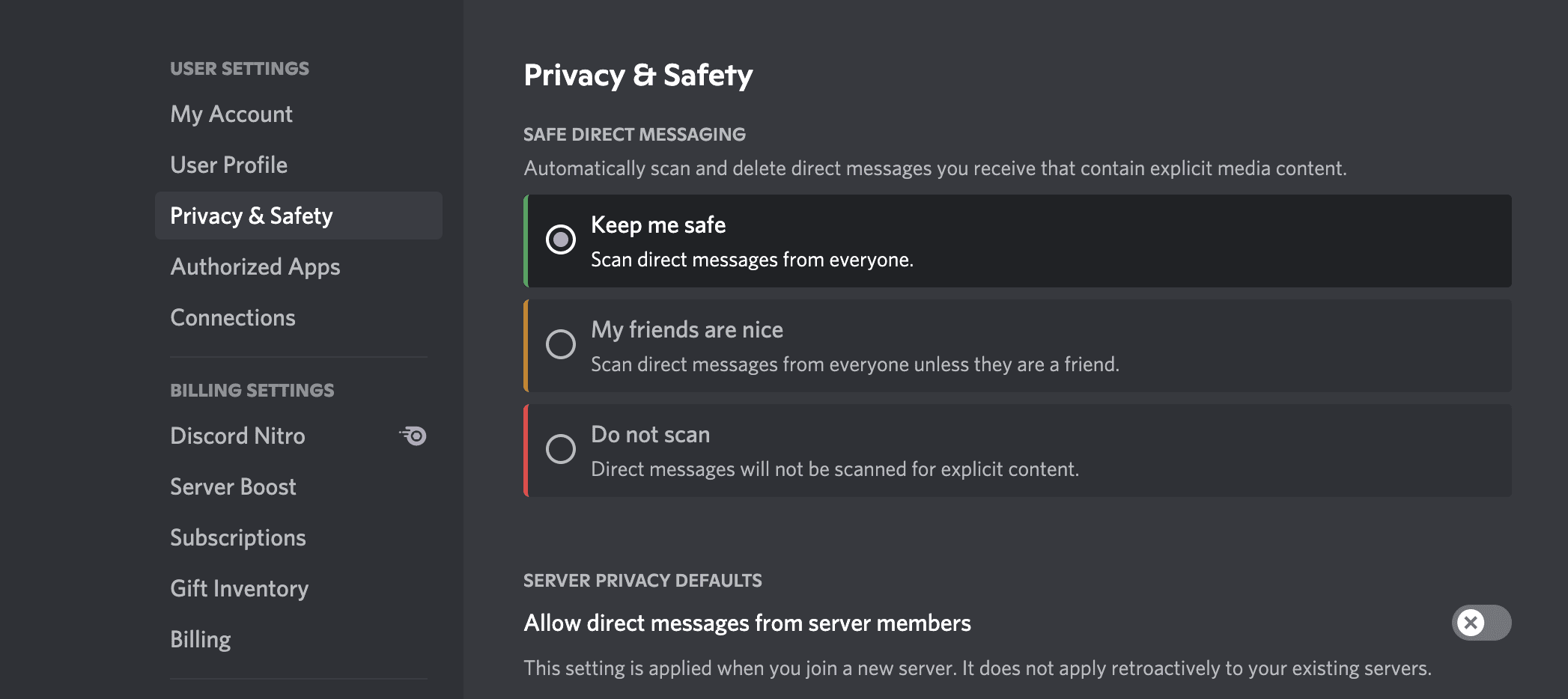 4. Next, in the same tab, under 'Who can add you as a friend', deselect Everyone and Server Members. This will only allow friends of friends to add your child.

Block Inappropriate Content Before it's Too Late
This step-by-step process should help you set up your child's Discord account in a way that you can feel good about. Discuss the importance of limiting private conversations with strangers is imperative to keep them safe. Keeping the lines of communication is important to ensure that your child doesn't change the settings back.