What are meal replacement shakes for gamers and does your player need them to stay at the top of their game?
Meal replacement shakes have been popular with fitness professionals and athletes for some time. They are typically a portable, milkshake-esque drink that provides you with the complete nutrition you need for a meal. Replacement shakes are fortified with vitamins and minerals and are overflowing with fiber and protein to make you feel full. Meal replacement shakes are typically touted as a healthy meal-on-the-go for people from all walks of life, from runners to office workers and kids to those seeking to lose weight.
Recently, drink companies have begun marketing their products, like energy drinks or meal replacement shakes, to gamers. Although my brothers have been gaming since the 90s, gaming has only recently exploded on the marketplace and brands are taking notice. A relatively untapped market, gamers are starting to find themselves the target of products being hawked as items that fit their specific needs. When people picture gamers, they might picture guys in suburban basements surrounded by fast food wrappers who live on energy drinks and other unhealthy fare. But today's gamers are actually very social, becoming very mainstream hip and are a prime and growing demographic for brands and advertisers.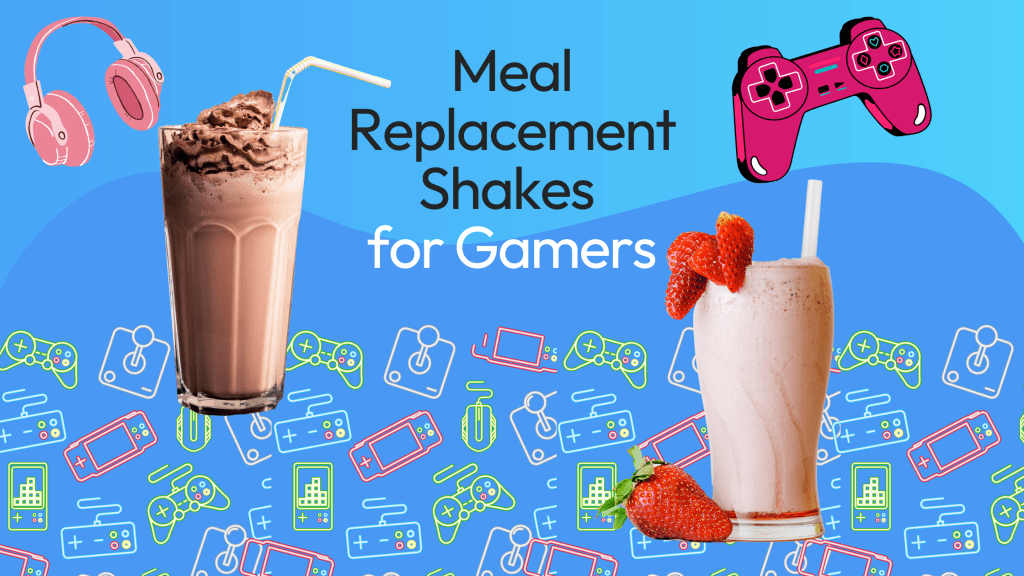 Meal replacement shakes target gamers
Meal replacement shakes can be a great food item to consume for a number of reasons. Not only are they easy to throw in a bag or purse and consume on the go, they are usually a complete nutrition, comprised of enough protein, carbohydrates, fat and calories to constitute an entire meal. No cooking, heating or clean up required. They are available in a variety of flavors to suit everyone's taste and are typically only a few dollars per bottle. Overall, meal replacement shakes can be a great option for a number of people for a variety of reasons.
Enter meal replacement shakes for gamers. Drinks intended to provide an entire meal's nutrition in one convenient bottle. No need to pause your game or take an extended leave to stand over a hot stove to prepare yourself a meal. Simply twist the top and drink. Boom! Nutrients, vitamins and minerals at your fingertips without any effort so you can focus on your game.
Brilliant, right? These companies are filling a need. Gamers need nutritionally-balanced meals just like the rest of us, to help power their bodies and minds, and meal replacement shakes for gamers offer complete meals that enable gamers to keep their heads in the game. Easy peasy.
Meal replacement shake companies up their game
Years ago, Soylent, the drinkable complete meal company, tried to target gamers with their meal-in-a-cup drink but ultimately failed. Although the product seemed a natural fit for the gaming lifestyle, the brand never had any heavy-hitter backers or gained any necessary clout to hit it big with serious gamers.
But CTRL, a relatively new-to-the-market meal replacement shake company founded by Sundance DiGiovanni of Major League Gaming, is seeking to change that. CTRL, which stands for Catered to Real Life, touts several flavors of meal replacement shakes backed by FaZe Clan, a powerhouse gaming group with 230 million social media followers. For this reason alone, CTRL is primed for success. The brand's website is filled with gamers and influencers are ready to make the brand the next best thing to hit the gaming world. These meal replacement shakes are being advertiserd to gamers as nutritionally-balanced meal replacement drinks that are affordable, delicious and good for you.
CTRL shakes: are they good for gamers?
CTRL appeals to gamers (and really kids everywhere and the population at large) by replicating the flavors of popular cereals. Whether you're a fan of cinnamon or chocolate or little fruity rings, CTRL has a flavor that will probably appeal to you. The powder, which can be added to milk or water to create a meal replacement shake, boasts 20+ grams of protein, more than 20 vitamins and minerals, ample fiber and a relatively low calorie count if you are consuming the shake as a meal.
Overall, CTRL packs a relatively tasty punch. Lots of fiber, low calorie and full of nutrients? All good things! But, like with anything, CTRL (and other meal replacement shakes) should be consumed in moderation. Even though the shakes are fortified with loads of vitamins and minerals, they won't replacement the goodness a gamer can derive from consuming an apple or broccoli. CTRL drinks are certainly a better choice than, say, a fast food burger or a chocolate milk shake, but CTRL cannot replacement the nutrients derived from whole fruits and vegetables. Like energy drinks for gamers, meal replacement shakes can be a great option when balanced against other choices.