Set yourself up for successful gaming (on the computer or on a gaming console) with these accessories.This is a list of some must have gear for gamers!
When I sat down to tackle this list of must-have gear for gamers, I immediately texted my brother, who was likely sitting on the couch with his daughter strapped to him in his ErgoBaby carrier, battling in Fortnite as his phone pinged. I asked him what his top five must-have accessories for gamers list would include and his near-instant reply was "Only five?"
After some thought, he texted me the wish list he would want fulfilled if someone was going to upgrade his gaming gear for the upcoming holiday season (I plan to forward this article to my sister-in-law after it prints!). He said that if you already have a solid computer or the gaming console you want and stellar internet service, then you're already well on your way to becoming a top-notch gamer.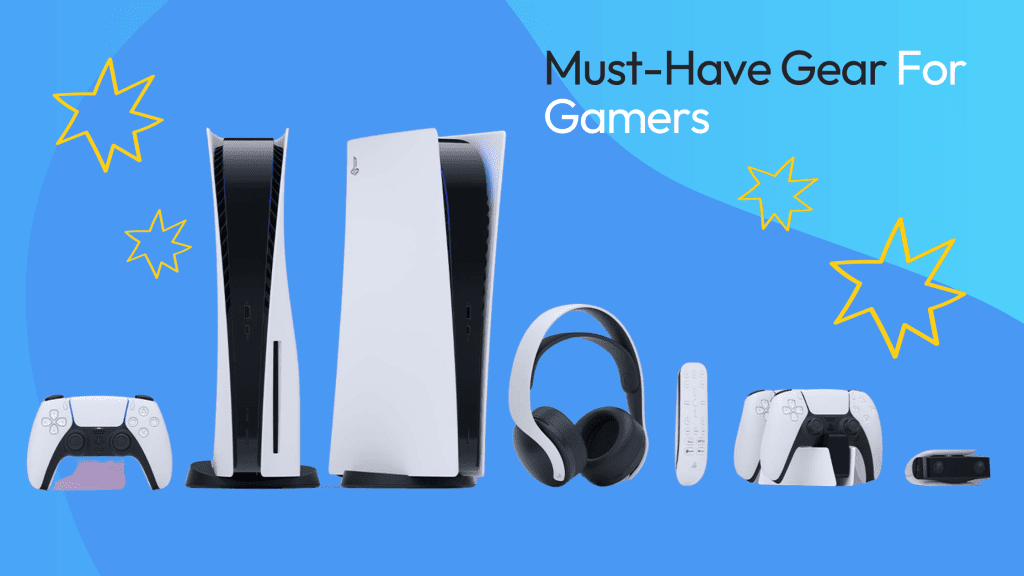 The Top 5 Must-Have Gear for Gamers
These five items can be purchased online or in local gaming stores. These items will range in price from fairly inexpensive to fairly pricey. Wirecutter is a great source for sniffing out the best of the best products in each of these categories.
Gaming Headset
The gaming headphones my brother wants are fancier then simple headphones you find in the dollar spot at Target. Firstly, most gaming headphones have a number of jacks that can be plugged into any device for optimal sound. A proper gaming headset will include a built-in microphone so you can chat live with other players. Lastly, the headset should be comfortable. If you are anything like my brother, you might be wearing these for hours on end! Select something that is sized for your head (make sure you don't purchase a kid's size if you are an adult and vice versa!) and comfortable for long periods of gaming.
Wireless Gaming Mouse
A gaming mouse is different from a standard computer mouse, or so I'm learning… A wireless gaming mouse will vibrate along with the game you are playing, and it enables you to click more quickly than a standard wireless mouse would. You may consider purchasing a mousepad to go along with your new wireless gaming mouse, too, so you are truly ready to dive into gaming.
Wireless Gaming Keyboard
Much like the wireless gaming mouse mentioned above, apparently a proper gaming keyboard will also help you on your PC gaming adventure. A gaming keyboard generally allows quicker keystrokes than a standard keyboard and comes with a neat backlight under the keys. You can also buy some that are ergonomically correct to help prevent fatigue on your wrists during periods of long play.
Gaming Chair
If your gamer plans to be sitting and, well, gaming for long periods of time, then a gaming chair is an absolute must-have. It doesn't necessarily need to be a chair that allows for extra special effects like some gaming chairs offer. Most importantly, my brother told me, is to have a chair that you are comfortable in for long hours. Gaming chairs generally help with posture and have ergonomic features to make you as comfortable as can be as you game away.
Gaming Desk
I can vividly picture the gaming set up my brothers had in our basement when we were teenagers in the 90s. They each had a desk with two monitors and all the set up they needed to focus on their gaming. I was welcome to use the "family computer" in the corner of the room but warned, more than once, to "never touch" their precious gaming items. Even now, my husband has a space where keeps all of his gaming accessories away from prying fingers that might otherwise wander off with his headphones and other accessories. A dedicated gaming desk where you can set up your items to your liking is a great fit for your avid gamer.
Must-Have Gaming Accessories: Awesome Extras
Other items your budding gamer might request…
Speakers. There are times when you might not want your headset on, and great speakers can help elevate your game play.
Blue light-blocking glasses. My brother recently invested in a pair of these and likes them. He feels like he's noticed less eye strain after long hours of gaming when wearing them.
Dual monitors. If you have the space for a second monitor for gaming, it is really ideal for gamers to help them get the full lay of the land while playing.
Screen wipes. Handy to have to be able to wipe dust and debris off your blue light glasses as well as your gaming monitors and systems.
What are your must have gaming accessories?