If your child is being bullied, either online or in real life, there are steps you can take to help minimize the impact.
So many kids are online these days. From completing assignments on the computer to gaming after school and chatting with friends via text message to checking social media, our kids are plugged in more often than they aren't. And, like with anything in life, there is a downside that comes along with all the positive that a connected life can bring. While online can be a great place to get help with homework or stay connected with friends who have moved away, it can also be a place where hateful messages get sent and hurtful words exchanged.
Bullying, unfortunately, is nothing new. There are a number of reasons someone might bully another person and various forms in which it can happen. Nowadays, because of the internet and social media, it is easier than ever for one person to be unkind to another. While it can be difficult for adults to digest mean things said or typed to them, it is even more difficult for kids to understand why others are being mean to them. But all hope is not lost if your child is being bullied or harassed online or in person. There are ways we, as parents and leaders, can help our kids make sense of what is happening and help them take action toward preventing the bullying and moving beyond it.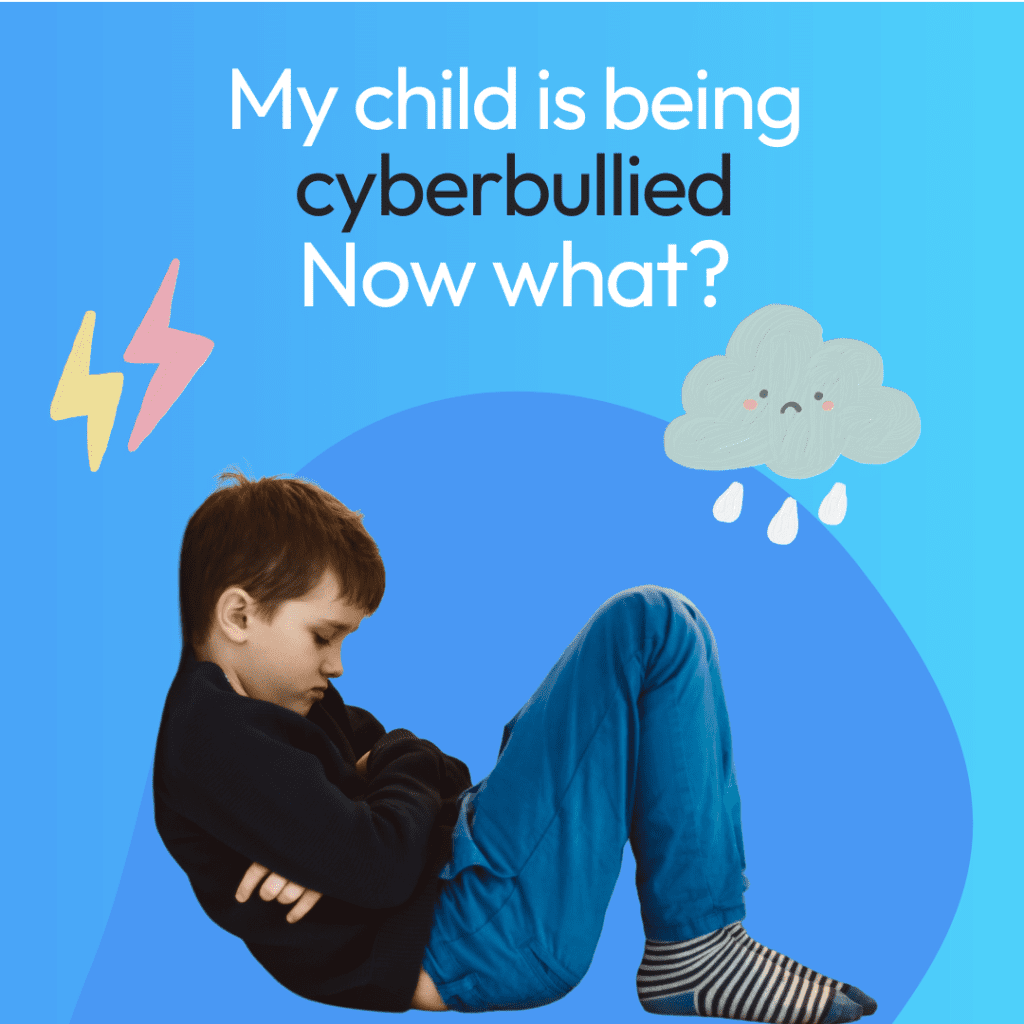 My child is being cyberbullied. Now what?
Assess the Situation
If you find out that your child has been cyberbullied, your best move is to start by talking to them. Get to the root of the problem by asking questions like:
Who is bullying you? Is it one person? A group of people? Is it someone you know? Or someone you only "know" virtually through online chatrooms or video games?
Where is this bullying taking place? In a chatroom? In a video game? Or in real life?
How often is this happening? Every time you log in to your game or chat group? Less frequently? More frequently?
What is the antagonist doing? Are they sending inappropriate messages or photos? Are they verbally attacking the child?
Asking these questions will help you assess the seriousness of the situation to be better able to fine tune your response.
Determine where/to whom to report the bullying/cyberbullying behavior
Many websites and games today have a feature when you can immediately report inappropriate behavior directly the owners of the site. Instagram, SnapChat, Facebook and Discord all have links directly on their sites where you can report a user who is engaging in unwanted behavior. Although no immediate action may come from reporting the account, if you stay diligent, the user will likely be flagged.
If the bully is a singular person or group of persons known to your child, you should block them. Social channels enable you to block users so they can't see your posts or have contact with you through the channel. You can also block someone on your child's phone from being able to text or call your child.
If your child has been cyberbullied or bullied at school, you may consider getting the appropriate adults involved. Teachers, counselors, principals. None of these individual wants kids to feel unsafe or unwelcome at school. If you suspect bullying is happening there, you should loop the people in charge into the conversation so they can help you have eyes and ears on a situation even when you aren't there. The same goes for sports, day care, activities. It may even help to get the other child's parents or caregivers involved in need be.
Resources to Help Kids Now
In this article, we listed places parents, caregivers, educators and leaders can turn for assistance when they suspect that their child has been cyberbullied. This week, though, I want to focus on resources for kids, tweens and teens who are being bullied.
As much as we hope our kids will always turn to us when they have problems, this, unfortunately, might not always be the case. But it's important that they know there are people they can talk to and people in their corner when kids are experiencing bullying, either in person or online. If your child needs someone to talk to but isn't ready to open up to you, you can guide them to one of these sites that may be able to help them through the rough patch they are experiencing:
Websites and hotlines for kids, tweens and teens experiencing bullying
AThinLine.org– Not only does this website provide helpful information to aid youth in navigating situations that involved unwanted attention or behavior, it has phone numbers they can call if they are in an abusive relationship, have thoughts of suicide and more.
StompOutBullying.org– This site includes a free and confidential chat feature for youth ages 13-24 where kids can express feelings without any strings attached. The crisis chat line is available Tuesday and Wednesday evenings where kids can be connected with counselors to help them talk through their concerns.
YourLifeYourVoice.org– Get 24/7 support via phone, text or email with this nonprofit that is designed to help kids in time of need. This site is designed to remind kids that it's okay to ask for help and it's okay not to be okay but that there are people who want to help and get them through any situation.
TeenLine.org– Counselors are standing by at TeenLine, ready to help your child when they need to. Thousands of teens reach out to this resource yearly for counseling and guidance. Kids and teens can also text if that feels more comfortable to get the help and guidance that they need.
The Trevor Project– This is a safe space for all LGBTQ+ youth who are being bullied. Help is available 24/7, and the site even provides its own chat group where LGBTQ+ youth can connect with peers in a safe space. This resource also provides parents with ways to get involved and advocate for change.
One thing I read over and over again in researching for this article that I found helpful enough to pass on in this: when a child or teen is being cyberbullied or harassed online, don't try to end the behavior by taking away their phone, internet access or gaming device. This can lead kids to believe that they did something wrong, and may lead them to hide their feelings from you in the future. Rather, talk through their feelings and what they can do to help change the behavior in the future rather than make them feel like they've done something wrong.
Change starts now.