Calling all Roblox (and parents of Roblox) players! Are you ready to take part in Netflix's Sonic Prime Virtual World Premier only on Roblox?
If you are a parent in your 30's or 40's, then there is no doubt that you loved Sonic. When it came out on Sega Genesis (what feels like a million years ago), it was the most exciting thing ever! Now, watching my kids love Sonic the way I did as a kid is incredible and makes me feel nostalgic.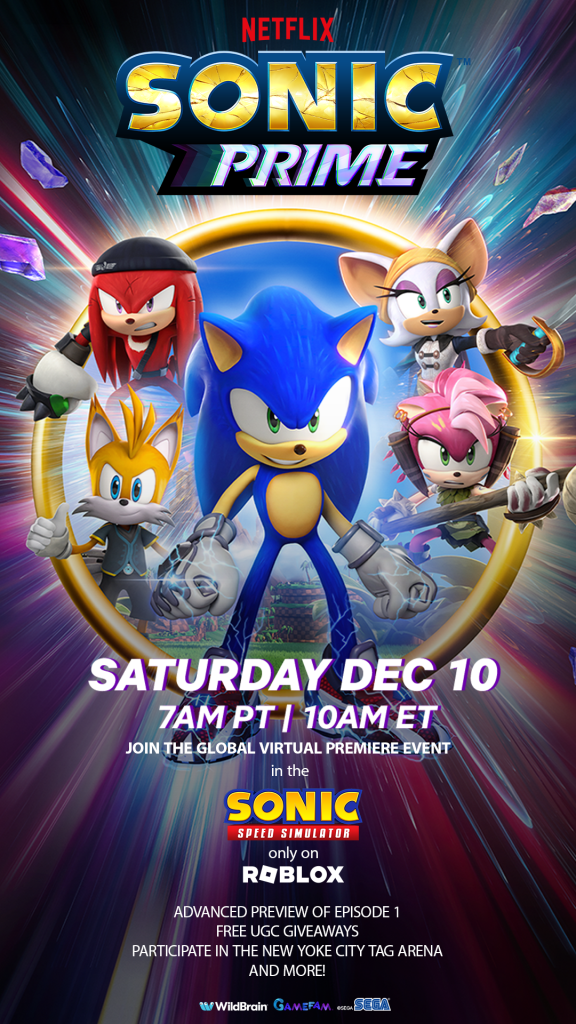 Netflix's Sonic Prime Virtual World Premier
Now, the highly anticipated animated series, Sonic Prime premieres globally December 15 on Netflix! In just one week, you will be able to cozy up with the kids on the couch and watch the premier! Who's excited??
You're Invited!
Want to get a sneak peek? We are excited to share this opportunity with our Kidas family! As a gift to fans familiar or new to the iconic blue blur, Netflix will debut the first 40 minute episode of the new series in the popular Sonic Speed Simulator developed by GameFam available only on Roblox beginning on Saturday, December 10 at 7 AM PT/ 10 AM ET and ending at 5 PM on Friday, December 16. Don't miss the chance to get a sneak peek!
The Sonic Prime virtual world premiere is truly an event not to be missed and will feature screenings of the first episode every 45 minutes and treat fans to an immersive experience where they will be able to win free UGC Giveaways, participate in a game of tag in the New Yoke City TAG Arena, and more – only on the Sonic Simulator on ROBLOX !
Don't forget to keep your child protected while they play on Roblox with ProtectMe. Receive alerts when you child comes in contact with any threats while playing on Roblox.
If you're interested in participating, just jump on your Roblox account any time after 7am PT on Saturday, December 10.