Andy Robertson, who runs the Family Gaming Database, offers some tips on getting ready to give a gaming tech gift. These are some things to consider when gifting technology.
It's a lot of work to find the right gift for a child or family member. There is an almost endless list of choices for any particular piece of technology. Once you have made the choice, particularly if it's a piece of tech for gaming, there are some important steps still worth taking before you wrap it up.
Gifting Technology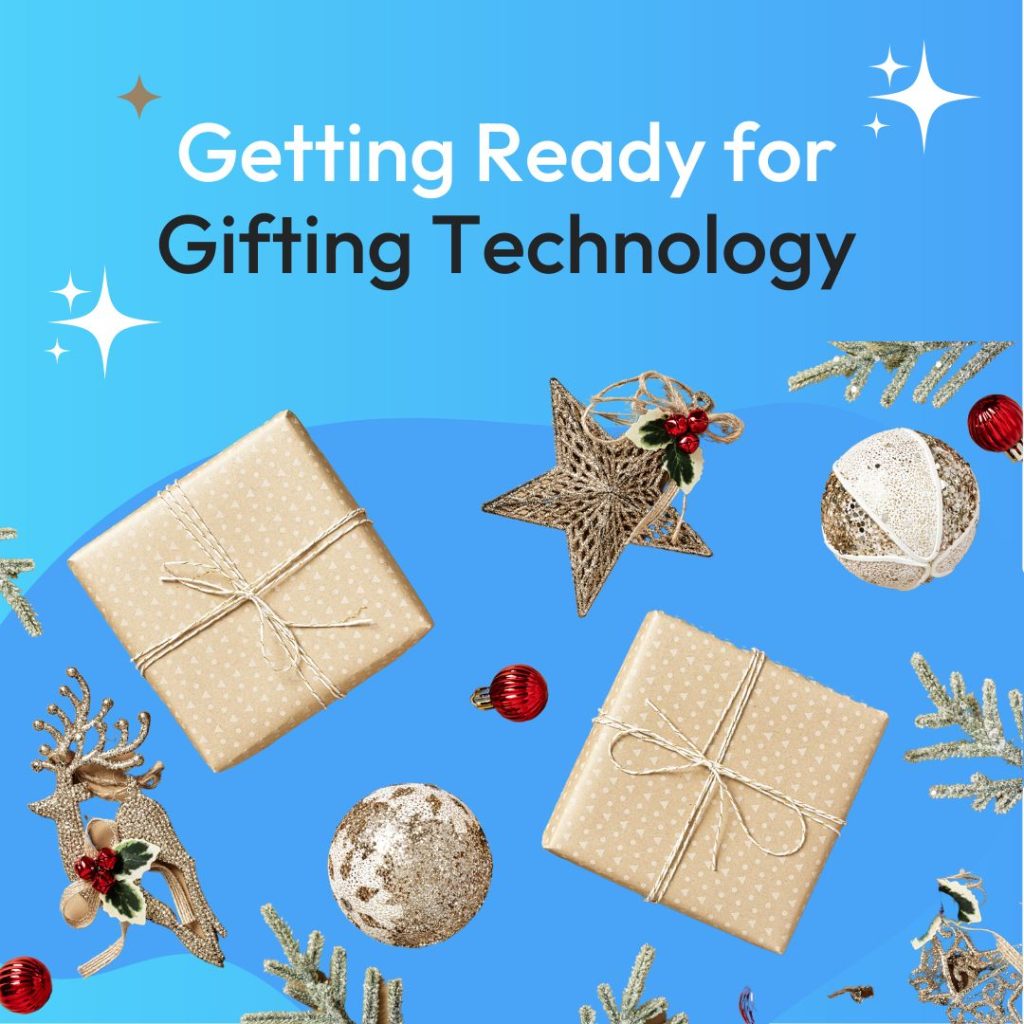 Set-Up User Accounts
Whether it's a gaming PC or console, an important first step to get ready to play safely and healthily is to create user accounts. The temptation is to simply run everything from one account for the whole family, but this means you can limit or guide what children are doing in a details way.
It's important to set up a main account for the system and then set up child accounts for each child in your household. When you do this ensure you use an email address that you check regularly as this ensures you get timely notifications about new games and spending.
Update Before Christmas Day
Because most modern consoles and computers need updates before you can go online with them, it's important to get them out of the box and plug them in before you wrap them up.
Setting up a console, for example, ensures that you are ready to go when the gift is opened. This includes:
Applying updates to the console.
Plugging in each controller to be updated.
Inputting any download codes to load-up games.
Inserting any game discs so installation and updates occur.
Although this can take an hour or so, it is time well spent. On the big holidays, everyone will be doing this at the same time and servers are inevitably slower. If you don't update ahead of time it's likely that you won't be able to play until the next day.
Set-Up Content and Spending 
An important part of getting ready for PC or console gaming is using those individual accounts to consider what level of play and spend is right for you and your child.
It can be good to have a conversation with your child and set this up together. The aim is that it is something you both agree to rather than a tool to police children's behaviour. Once you have come to some healthy limits together you can then set them up on the console automatically. 
Exactly where you do this differs from system to system but they all have a Parental Control or Family Settings area where you can specify:
How long can be played each day.
Whether money can be spent.
What age-rating games can be accessed.
Anything outside of these boundaries then requires your PIN. It's a good moment to have another conversation with your child, to ask about what they are playing and whether there's something else they might rather do.
Playing Together
I've saved the best advice until the end. Finding games to play together as a family is a really powerful way of teaching healthy habits. Rather than games gravitating to only being played in the bedroom, keeping them in the family room is a big help.
There are some great examples of games that families I've worked with have enjoyed playing together, particularly when there is a range of abilities and experiences with video games:
Wilmot's Warehouse is a game for people who like to organise things. You are in charge of a warehouse and must manage 100s of items of stock. These identical square boxes are labelled with rudimentary icons. On your own or with another player, you must decipher what each icon depicts and invent ways to categorise them. Customers then appear wanting specific combinations of products and you have limited time to find and deliver them.
This is a resort exploration game where 50 mini-games can be discovered and played. The mini-golf, skating, surfing, volleyball, car racing, tennis and other games use the Wii and Switch motion-sensitive controllers and are simple fun for youngsters. But the real excitement is exploring the resorts and collecting treasure: 'Marine', 'City', 'Snow' and 'Mountain'. Each requires different ways to get around, including horseback, motorbike and kayak. Up to four players can explore at the same time, catching fish and collecting photographs of the animals they find. This is a great game for younger children because it's simple to control and enables them to explore where they want and at their own pace in a detailed cartoon world with lots to do.
Overcooked is a collaborative cooking game for up to 4 players. You must keep talking to other players to coordinate the various elements of the dishes. It starts simply enough but soon gets more complicated as you prepare food in ever more fantastical locations.
Conduct Together is a strategy game where you control toy trains along the overlapping train tracks. Each train can be started and stopped with a specific button. Other buttons change different points. The aim is to transport the people from one station to the next as quickly and safely as possible, without the timer running out. New levels bring challenges and increase in difficulty the more you complete.
Paradise Marsh is an open-world collecting game where you explore a varied marsh to find insects to put their stars back in the night sky. You wander an endless wetland and collect creatures, skim stones and eat mushrooms as the weather and seasons change. Its unique visual style and intentional slow pace and gentle tone make it an adventure of exploration and discovery.
Conclusion
With these simple steps outlined above, you can rest assured that not only will your gaming gift is safe and positive to use, but it will also be ready to go from the moment it's unwrapped. Avoiding that "batteries not included" moment that haunted Christmases past.
Andy Robertson is the author of the Taming Gaming book for parents and runs the Family Gaming Database.