While children are online and parents are feeling anxious about it, the question remains: how can adults help children remain safe online?
Part of the global response to the COVID-19 pandemic was the shift for children and learners everywhere from in-person classrooms to digital classes. Around one billion schoolchildren moved to online learning when schools remained closed. While there are benefits to digital education for children, it's crucial to acknowledge the risks children face when they're on the Internet.
According to the FBI Internet Crime Center Report, cyber crime against children increased by 144% in 2020. In fact, from 2015 to 2020, the FBI received close to 10,000 complaints related to online crimes against children. Even as in-person classes are now back, they undeniably spend a lot of time on the internet for various reasons. As such, the adults around children must help keep them safe online. Today, we'll look at some essential practices that answers the questions how adults can help children remain safe online: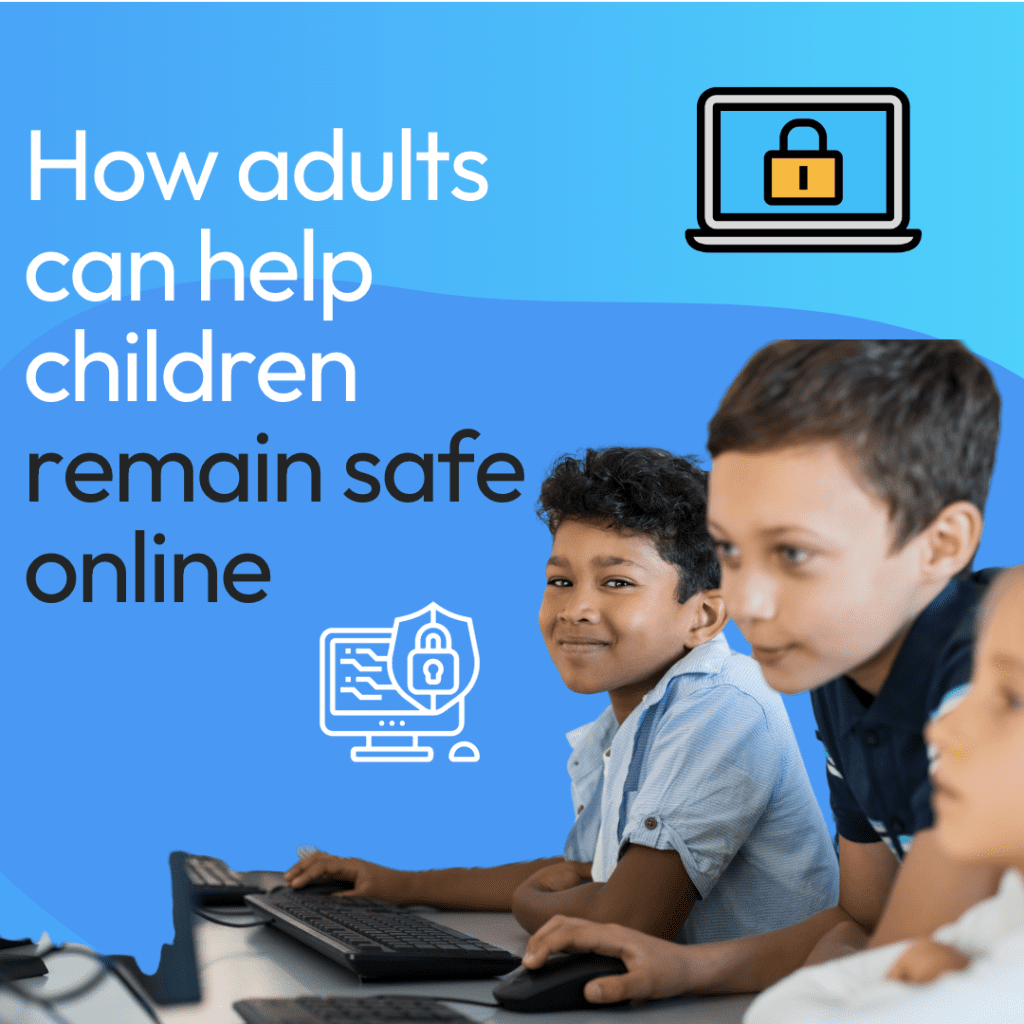 How can adults help children remain safe online?
Make sure the child is old enough to be online
Children have more access to digital technology today than we used to. With smartphones becoming a commodity and video games taking on online features, your children will inevitably spend some time interacting with people from around the world. In our previous post about the right age for children to be online, we noted that the minimum age for use in all US-based applications is 13. Children commonly ignore this rule and resort to falsifying their age to access these sites or apps, so parents and guardians should wise up on the applications children use. A good way to help enforce this safety measure is by suggesting alternative applications children can enjoy that have no minimum age requirement or are for all ages.
Making use of parental controls
Sometimes, the irony in warning children of the dangers of digital technology is that there are certain technologies put in place that can help keep your children safe online. These include the use of parental controls for specific applications and websites, password managers, family-sharing mode, and security software. All these technologies make everyone's online activities transparent and keep your family's devices safe. Some of this software will also warn a device's user when they are entering a potentially malicious website or downloading files from unsafe sources. This kind of software can support parents and kids alike in reducing the chances of getting malware or viruses.
Promoting good cybersecurity practices
Cybersecurity is a looming threat for many parties, from businesses to families and children. As such, we see a greater movement towards higher education and skills training, such as the cybersecurity apprenticeships established by the White House, which focus on underserved communities. This is also being reflected at universities through the extension of online cybersecurity courses. These online cybersecurity degrees are able to train more students in offensive and defensive tactics, and these professionals are now in high demand, as experts predict there will be more attacks on legacy systems in organizations worldwide. Compared to the 30% demand for IT professionals, the need for trained cybersecurity workers has grown to 94% since 2013 — illustrating how severe the situation is. However, you don't need to be a cybersecurity expert to teach your children basic but essential cybersecurity practices when spending time online. Basic habits such as not sharing their passwords, for example, or being wary of connecting to potentially unsecured public networks, are good places to start.
Having open conversations with children
Children are adamant about spending time on the Internet — despite the risks — because they don't want to feel left out of what's happening online, especially among friends or peers. Because of this, parents, guardians, and teachers must have open and honest communications with children about materials and content they may be exposed to on the Internet instead of treating them like taboo subjects that will only trigger their curiosities. Children are naturally curious and will wonder about topics outside their knowledge and expertise, so it's always best that they are educated and well-equipped to handle what they encounter online before coming across them on their own — and without proper guidance from a reliable adult.
Specially written for KIDAS
By: Rhona Jaslyn